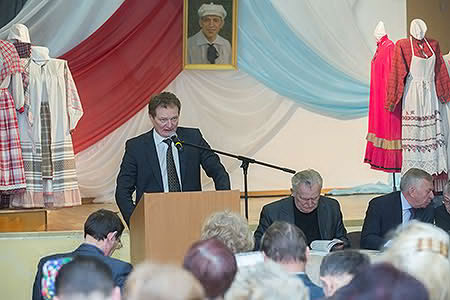 In Izhevsk in the House of friendship of the people of Udmurtia, on January 28 the republican scientific and practical conference "Gerdovsky Readings" there took place.
The chairman of the constant commission of the State Council of Udmurtia performed at opening with a welcoming speech on national policy, public safety, the regulations and the organization of work of the State Council, Envil Kasimov. He noted that deputies of republican parliament understand a role of culture, traditions and language in our society and reported about intentions to discuss and accept a number of decisions which would expand possibilities of studying of the Udmurt language and stimulated its use as language state.
We will remind that at the end of 2013 the all-Udmurt association "Udmurt Kenesh" introduced the bill in the republic State Council about introduction of obligatory studying of the Udmurt language at schools of Udmurtia. If deputies support the new bill, the Udmurt language will become obligatory for all second-graders since September first, 2014. However the chairman of the constant commission of the State Council of Udmurtia on science, education, culture and youth policy Natalya Sudarikova in January, 2014 spoke against this initiative.
The head who has acted as the leader "The Udmurt Kenesh" Igor Semenov emphasized the importance of "Gerdovsky readings". Scientific and practical conference is an important form of promotion and promoting of a rich heritage of Kusebaja Gerd. The sounded reports were integrated by the subject "Kusebei Gerd and Udmurt Traditional Culture".