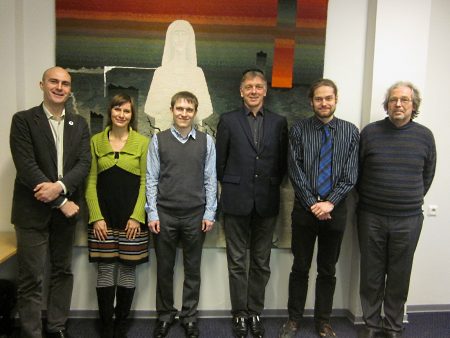 A meeting between Indrek Tarand, Member of European Parliament from Estonia (Greens/EFA) and a delegation of MAFUN (Youth Association of Finno-Ugric Peoples) was held on November 24 in Tallinn.

Representatives of MAFUN, including Sampsa Holopainen (Vice-President), Oliver Loode (Board Member) and Alexey Tsykarev (President 2009-2011) presented the Estonian politician with an overview of key projects of the Finno-Ugric organization and shared plans for the next two years. The meeting was also attended by Andres Heinapuu (member of Consultative Committee of Finno-Ugric Peoples) and Marge Laast (Estonian Academy of Arts).

At the meeting, Mr. Tarand acknowledged accomplishments of Finno-Ugric youth and offered his support to MAFUN going forward.  Participants of the meeting discussed broad directions of cooperation between MAFUN and European institutions, but also identified specific project ideas. Mr. Tarand, who obtained a record number of votes during last European elections, expressed an interest in endorsing cultural projects associated with Finno-Ugric peoples at the European Parliament.

In the nearest future, Board of MAFUN will discuss and elaborate these and other proposals for expanding international activities of the organization.  At this time, preparations for Finno-Ugric Days at the United Nations are underway, in accordance with the decisions of the last MAFUN Congress.