In April of this year, the activists of Syktyvkar representation "Komi Voityr" met with the head of the municipal administration of city district Syktyvkar, the news agency "BNK-Komi" reports.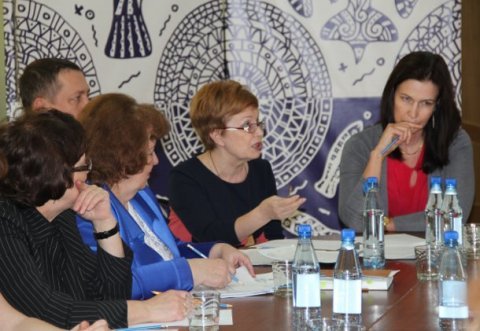 Among other questions, the mayor of the capital of the Komi Republic Ivan Pozdeev and activists discussed the possibility of group opening on training of the Komi  language by method of language dipping in kindergarten No. 4 in micro-district Lesozavod.
We will remind, that this academic year the training of Komi language from the first class is carried out at three schools - No. 37, 20 and 38. Besides, the in Komi National Gymnasium a group of first graders studies the Komi language as native. And next academic year it is planned to open one more similar group, the informing on opening of the first class with study of the Komi language as native and questioning of parents of future first graders is now being carried.
Out of school children take the active part in the cultural actions directed on saving and development of the Komi national culture and traditions, in particular, now there takes place the preparation for the inter-settlement festival "Кужам сьывны, кужам и ворсны» (We are able to sing – we can also play) devoted to the 85-year anniversary of children Komi writer S. V. Pylayeva.