On June 23 within a working trip of the Russian Prime Minister Dmitry Medvedev to Karelia his meeting with the Head of the republic Alexander Hudilaynen took place. During a meeting the questions of social and economic development of Karelia, the approved federal target program "Development of the Republic of Karelia for the Period till 2020" were discussed.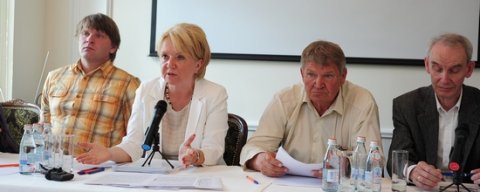 As the chairman of the public combining "Karelian Congress" reported to FINUGOR.RU media center, on the eve of arrival of the Russian Prime Minister members of the organization transferred to the Public reception of D. A. Medvedev in Petrozavodsk - the Appeal  to for D. Medvedev.
According to the site "GUBERNIA DAILY", on June 24 the public committee for resignation of the governor of Karelia Alexander Hudilaynen held a press conference. During this press conference A. Grigoriev transferred to journalists the copy of the Appeal to for D. Medvedev.
In the Appeal it is spoken about the problem exciting inhabitants of the republic. So, in the text it is specified the reduction of the release of the Karelian magazine, the only one existing in the Finnish language. "According to the decision of the government of the Republic of Karelia since January, 2014 release of Karelia log in the Finnish language is sharply reduced. The reduction of release of the magazine from 10 numbers a year to the 2nd – five times – doesn't fit in to a reasonable explanation. After all thus a number of laws, regulations of Russia and the Republic of Karelia is violated. Moreover, it is necessary to speak directly, such decision of the government of Karelia aroused perturbation and indignation at many active citizens of the republic, not only Karelians and Finns, but also Russian-speaking inhabitants".
In the address it is emphasized that the similar decision offends the national dignity of Karelians and Finns of the republic and the Russian Federation. The address comes to the end with a request personally to Dmitry Medevedev to give support to the magazine.
The Appeal was signed by public figures and representatives of local authorities.