The Strategy serves as the basis for adjustment of effective interaction of all hierarchy of public authorities of the republic, local governments and institutes of civil society. The official site of the Ministry of national policy of Komi reports about it.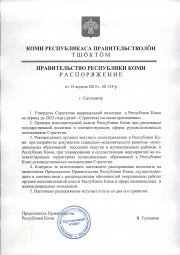 "The acceptance of the regional strategy national policy is an important step in the implementation the strategy of state national policy of the Russian Federation on the territory of our Republic approved by the decree of the President of the Russian Federation Vladimir Putin in 2012. So, the continuity of policy approaches in the sphere of interethnic and interfaith relations at the regional level is observed.
The Republican strategy takes into account the acquired experience and at the same time is a new practical document for the organization of effective activity of Republican authorities, the institutions of local governing and civil society institutions for the implementation of problems of the state national policy. And still main idea is the need for civil and interethnic harmony so important in our multi-ethnic and multi-religious society", - said the head of the Komi Republic Vyacheslav Gaizer.
Ensuring equality of citizens, the realization of their constitutional rights in the sphere of the state national policy, the preservation and development of ethno-cultural diversity of the people, providing international peace and harmony, harmonization of the interethnic and interfaith relations, the development of system of ethno-cultural education and civil and patriotic education of younger generation, providing optimum conditions for preservation and development of state languages of the Komi Republic, the improvement of interaction of state authorities and institutions of local governing with institutes of civil society, the development of the international cooperation in the sphere of the state national policy in the Komi Republic are designated in priorities.
Vyacheslav Gaizer drew attention to the importance of the adoption of the strategy.
"I note, without exaggeration, that the Strategy of national policy in the Komi Republic became the result of a serious and thoughtful work of our scientific and expert community and General public discussion in which participated the most active national public associations of the Republic.
The regional strategy is not just a document attesting to the regional specificity of inter-ethnic relations, and first of all, the promise to the daily hard work of the state and society for the sake of the harmonious coexistence of all peoples and representatives of all faiths, counteractions to extremism and intolerance, as the fundamental conditions of dynamic development of our common home – the Republic of Komi", - stressed the head of the region.