On August 18 in National Museum of the Komi Republic the presentation of an album "Zyrians — the People Gifted" took place. The collections of items of folk art of Komi-Zyrians in a collection of the National Museum of the Komi Republic".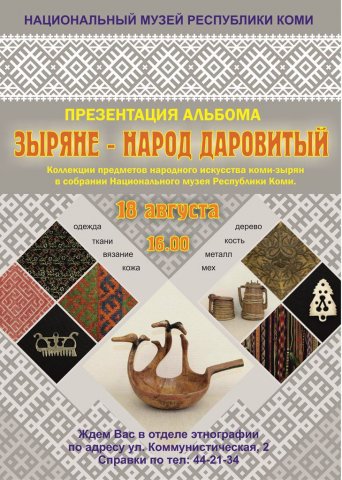 The album acquaints with samples of folk art, the items of traditional culture of Komi-Zyrians of the end of XIX – the first half of the XX century. Some products on time of creation do not enter in these chronological frames, however they are executed in traditional technique and quite reflect the eligibility of manufacture of household items up to the end of the XX century. In the issuance some features of collection, for example, an existing (sometimes — creation) of the items of the Komi of folk art in the territories with the folk state Russian population are tracked (for example, the village of Loym, the settlement of Nyuvchim).
Besides, the items which are characteristic for the Komi of culture, are being encountered in the territory of the present Yamalo-Nenets Autonomous Area meet. The selection of items allows to pay attention to the interpenetration of cultures in the border territories of moving of the Komi people.