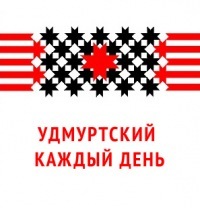 The project «The Udmurt language every day» that started at the beginning of May in a social network «Vkontakte» develops successfully and has collected already more than 400 subscribers. Today there are more than 60 visual aids with the Udmurt words in the group. The founder of this site, the active worker of movement for the preservation and the development of the Udmurt and other Finno-Ugric languages Alexey Shkljaev informed the  media centre FINUGOR that he had the idea of similar visual lessons several years ago and he realized this idea by creating pictures with words (memah) and spreading them in the Internet. But it turned out to be long enough and labour- intensive process therefore the tactics of the work was changed. Now some more people (among them such known active workers of the Udmurt movement as Olga Urasinova, Maria Galeyev and Anna Semenova) help Alexey with this work. 
Every day a new word (or group of words of the general subjects) with the picture appears on the site. It was supposed, that the page will draw attention of the people who do not know Udmurt, but who want to learn it. Now the native speakers also communicate there: they help by giving comments concerning the arising questions.
It is remarkable that these visual lessons have interested Austrian Christian Pischlöger  who has created the page with the same name in Facebook.com in the Udmurt, German and English languages. For the last week 5260 persons visited this site and it means that these lessons are very popular. It is planned to make this page also in Russian. «Such projects are very necessary for a modern society. They help people to get information about the language every day», - A.Shkljaev explained. He also hopes that the success of "Buranovsky grandmothers" on the Eurovision will cause the interest and respect for Udmurts and the Udmurt language not only in Russia, but also in the world that will involve the new people, wishing to learn the Udmurt language.